Discover Unmatched Relaxation with our luxurious blend of essential oils and menthol that kick your stress to the curb.
Using our premium grade shower steamers provide a fully relaxing and soothing shower experience. The steam in combination with our perfect blend of 100% natural eucalyptus essential oils and menthol can help to clear nasal passages, improve breathing, and ease muscle tension. Helping you to feel clear and relaxed.
Additionally, the warm and luxurious environment created by the steam can also help to improve sleep and reduce feelings of fatigue. Users say that the essential oils used in our shower steamers can have a calming effect on the mind and body.
Feel your stress slowly slip away. Our naturally soothing formula promotes deep relaxation, calms your nerves, & brightens your mood. Made with 100% natural ingredients for life's everyday stressors.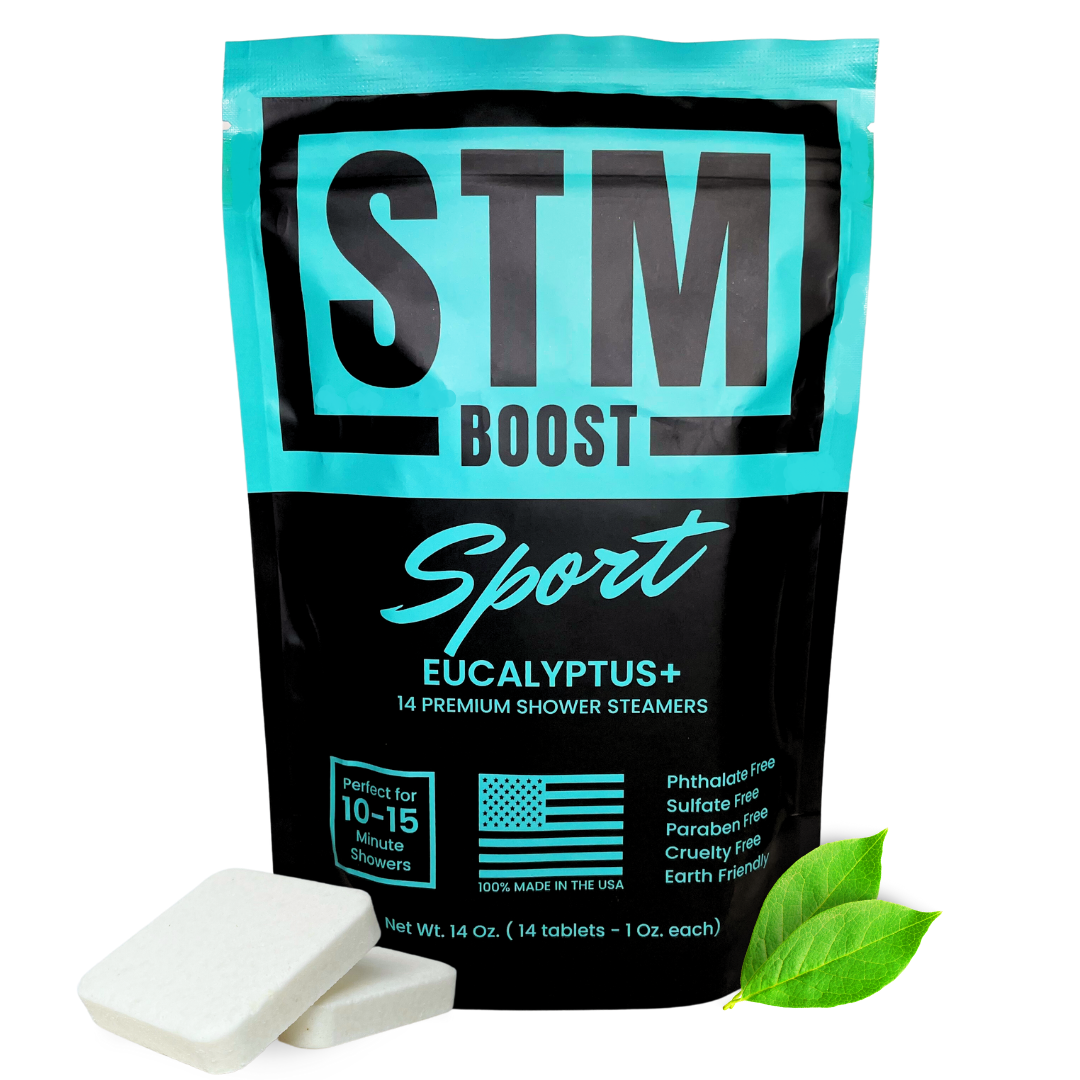 STM Boost Sport - Eucalyptus+
Regular price
$39.97 USD
Sale price
$29.97 USD
Unit price
per
Sale
Sold out
View full details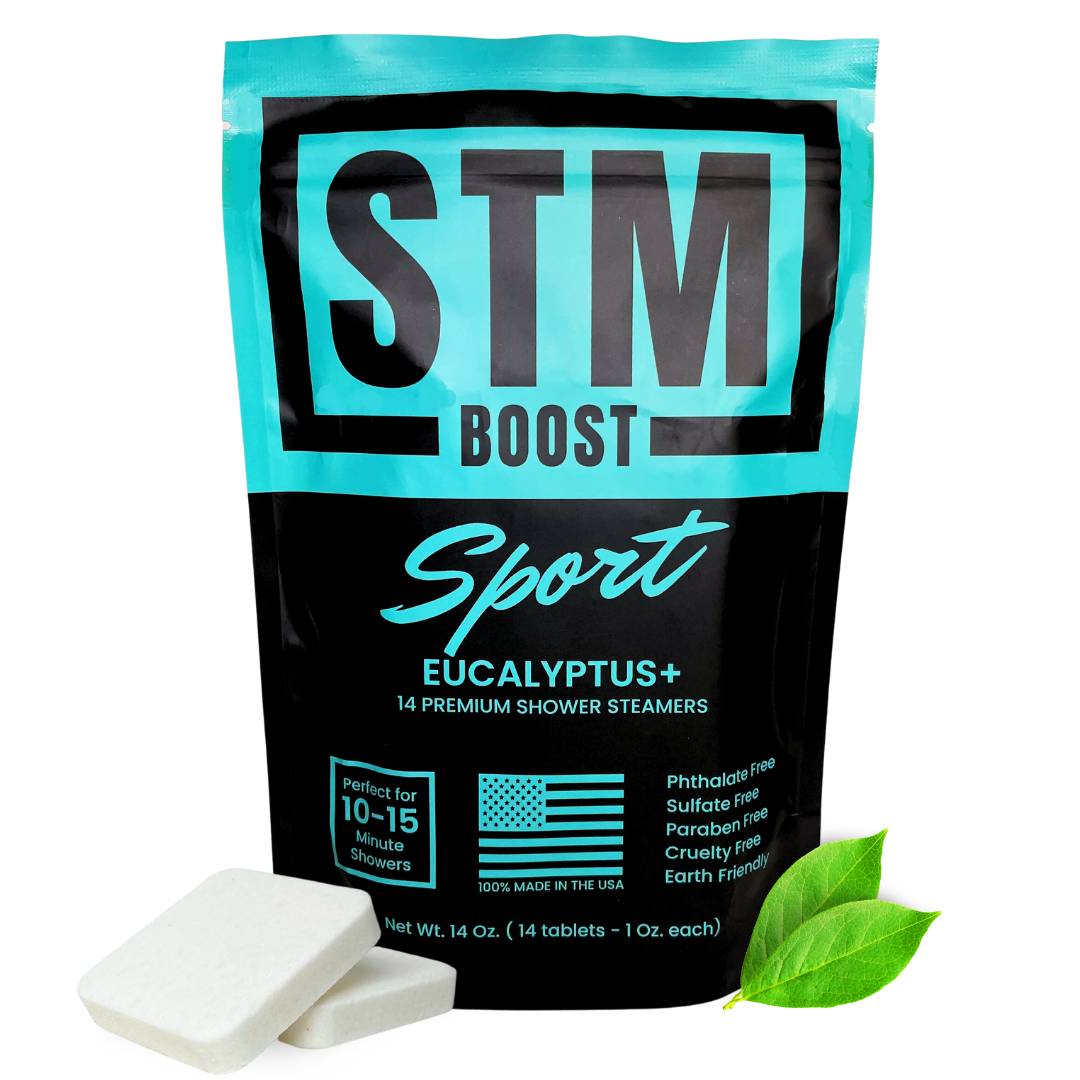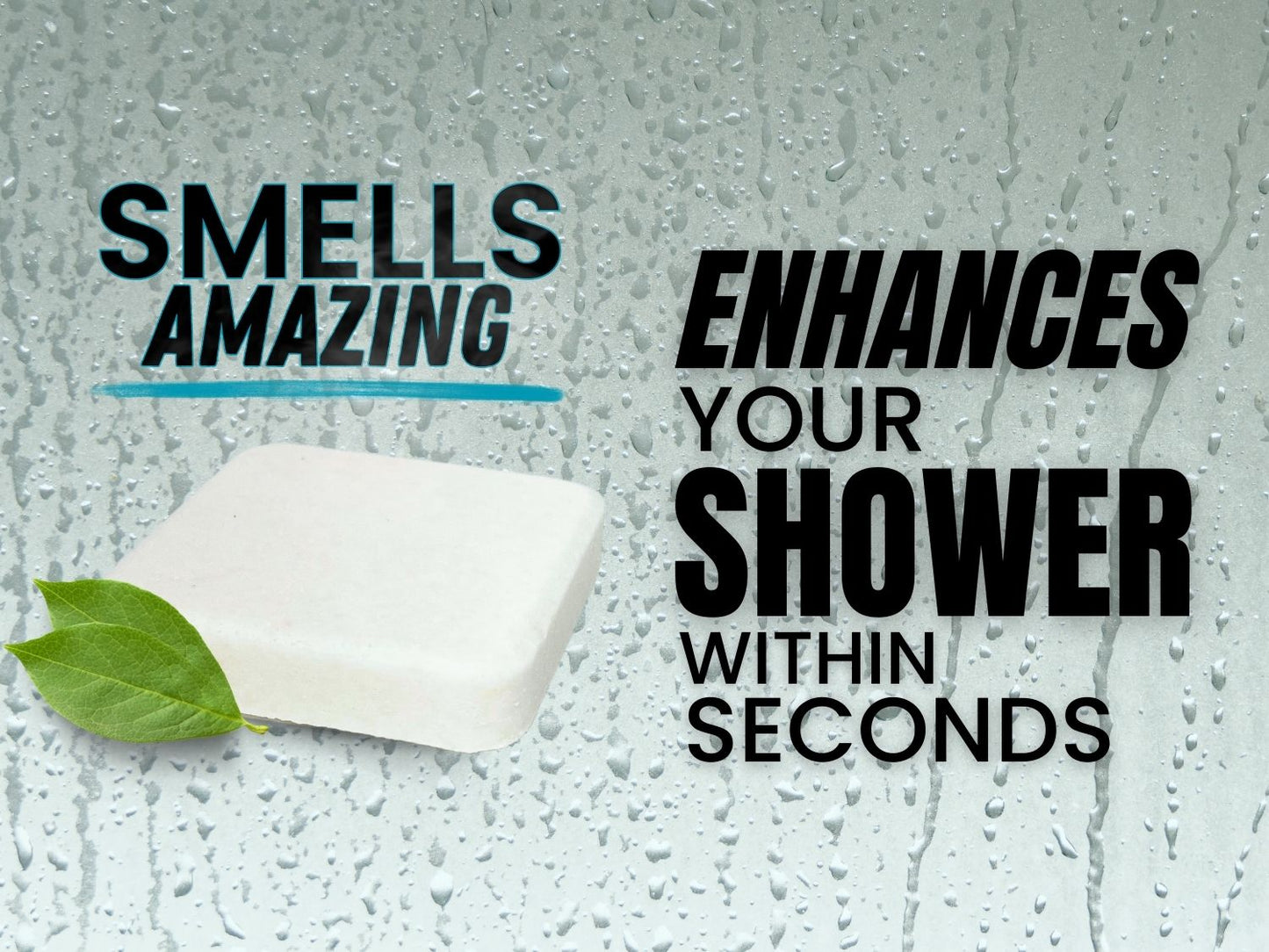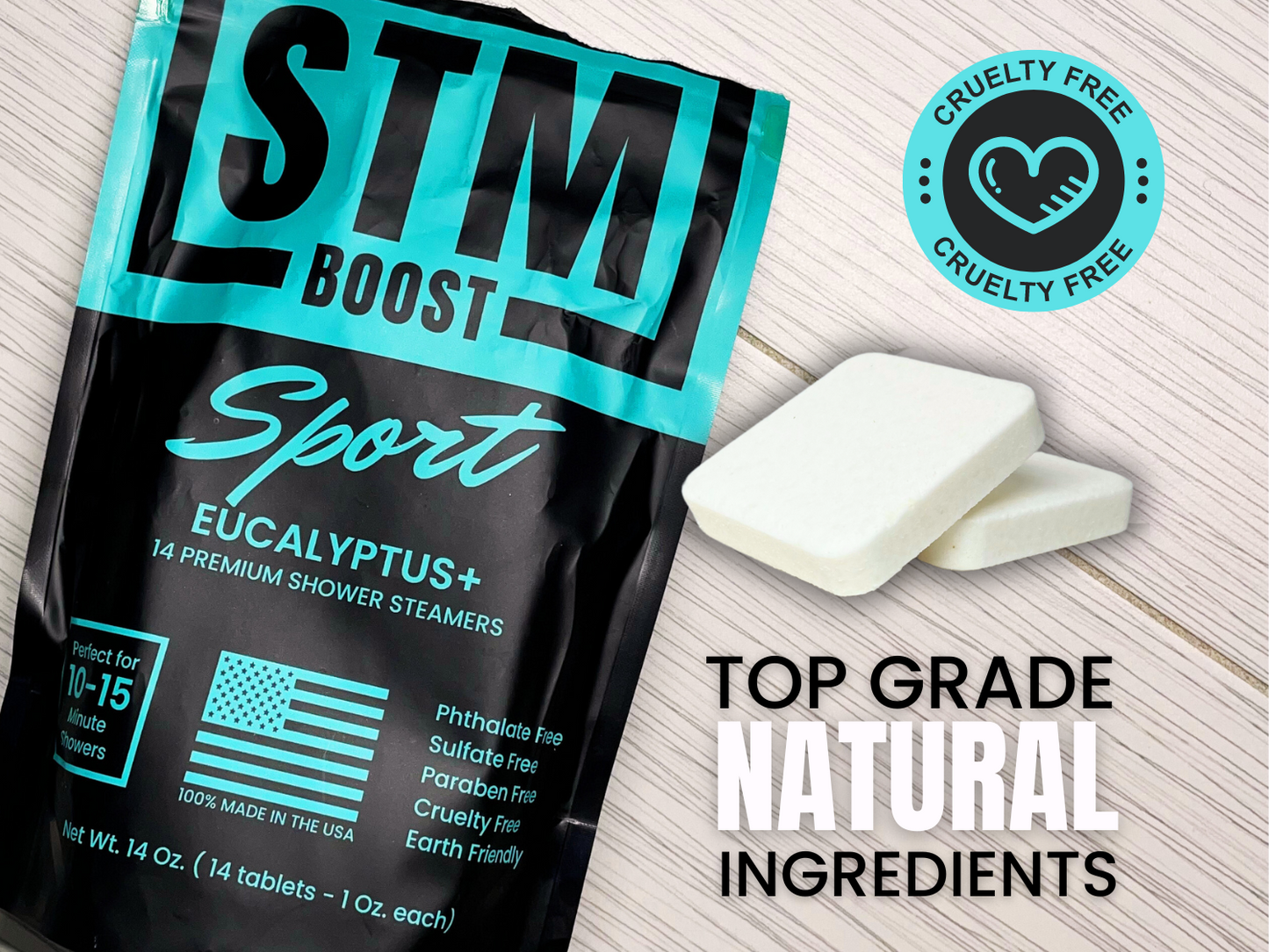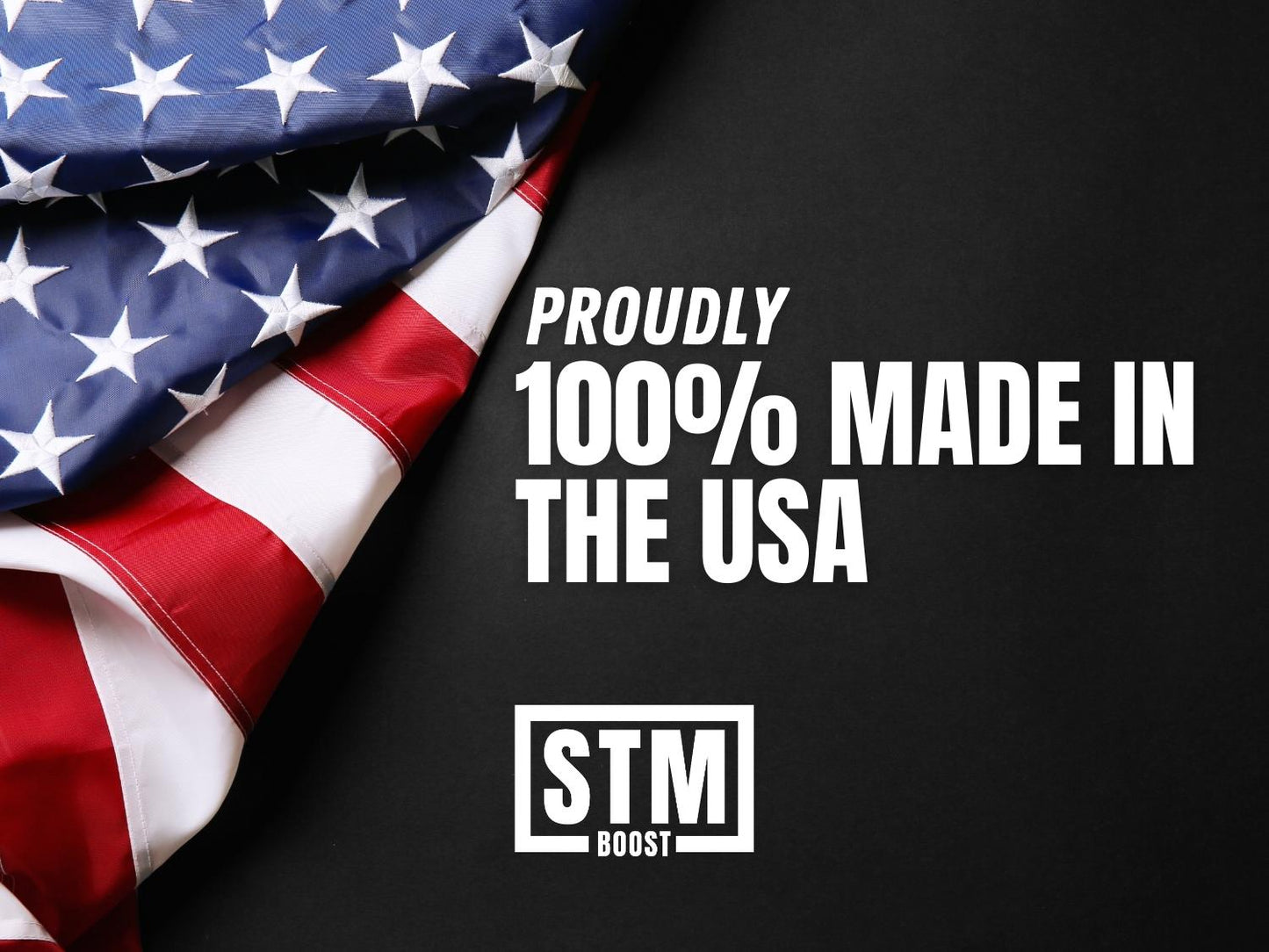 Here's Just a Few of The Qualities of Our Shower Steamers:
Stress-Busting Relaxation in a Tab

Obliterate stress and find relaxation with our Eucalyptus Menthol Shower Steamers. The refreshing blend of essential oils will clear your mind and stimulate your senses, creating a remarkable spa-quality ambiance in your own shower. The hot steam carries the natural essential oils and menthol for a an exceptionally soothing and calming effect. This powerful combination of aromatherapy and steam can help reduce tension, ease muscle aches, and promote overall well-being - all in a quick, convenient tab!

Feel Ready to Conquer Anything That Comes Your Way

Harnessing the power of essential oils to provide an unparalleled aromatherapy shower experience. The use of essential oils for aromatherapy has been shown to have various benefits, including improving mood, reducing stress and anxiety, clearing congestion, and promoting better sleep. Our unique blend of essential oils, including eucalyptus and menthol, work together to stimulate your senses and sharpen your focus, leaving you feelinglighter, brighter,and ready to take on the day ahead.

Packs a Powerful Punch

Our steamers contain significantly more top shelf natural essential oils and premium grade menthol to provide a more enjoyable robust scent compared to other shower steamers.

Because we use only top shelf USA sourced ingredients, our perfect blend of Eucalyptus Essential Oils and Menthol will give you the spa quality experience you would expect and deserve.

Skip the Hassle

Our high-quality double-layered bags keep your steamers fresh for over 10 months, without the need for individual wrapping. Say goodbye to fumbling with hard-to-open plastic wrap or gunky stickers and foil before every shower.

Shower Steamers That Don't Wimp Out

Our shower steamers don't just provide a refreshing burst of calm and relaxation - they also offer a long-lasting scent that keeps you feeling refreshed and energized all day long. Thanks to our unique slow release technology, each 1 oz. steamer takes just a few seconds to activate, providing up to 15 minutes of pure, uninterrupted bliss.

Avoid the Pitfalls of Imports

STM Boost is proudly 100% Made in the USA. Many other brands import their products from China which can be problematic as it can be hard to verify ingredient quality, ethical manufacturing process and their product isn't as fresh after being in a shipping container for two months during transoceanic transport.
Let customers speak for us
Superior Quality Ingredients:
Sulfate Free

Sulfates can cause irritation and dryness in some individuals and can strip the skin and hair of natural oils, so our sulfate-free shower steamer may be a good option for these people. It can also help to prevent damage to the skin and hair.

Earth Friendly

With our USA-first sourcing policy, we use only the finest, all-natural, organic & sustainable ingredients in all of our products.

Cruelty Free

Join the movement of conscientious consumers who refuse to compromise on ethics and quality. Our Cruelty Free products are not only kind to animals, but they're also effective and reliable. So go ahead, pamper yourself guilt-free, and enjoy the peace of mind that comes with knowing that your choices make a difference!

Paraben Free

Parabens are preservatives used in personal care products that may be linked to certain health issues, and some people choose to avoid them as a precautionary measure. Our paraben-free shower steamer may be a good option for these individuals.

Phosphate Free

Phosphates in products like shower steamers may be linked to environmental issues such as algae blooms and can contribute to the buildup of scale in pipes. Using a phosphate-free shower steamer like ours may help to reduce these negative impacts and prevent scale buildup.

Phthalate Free

Phthalates are chemicals used in some personal care products that may be linked to certain health issues, and some people choose to avoid them as a precautionary measure. Our phthalate-free shower steamer may be a good option for these individuals.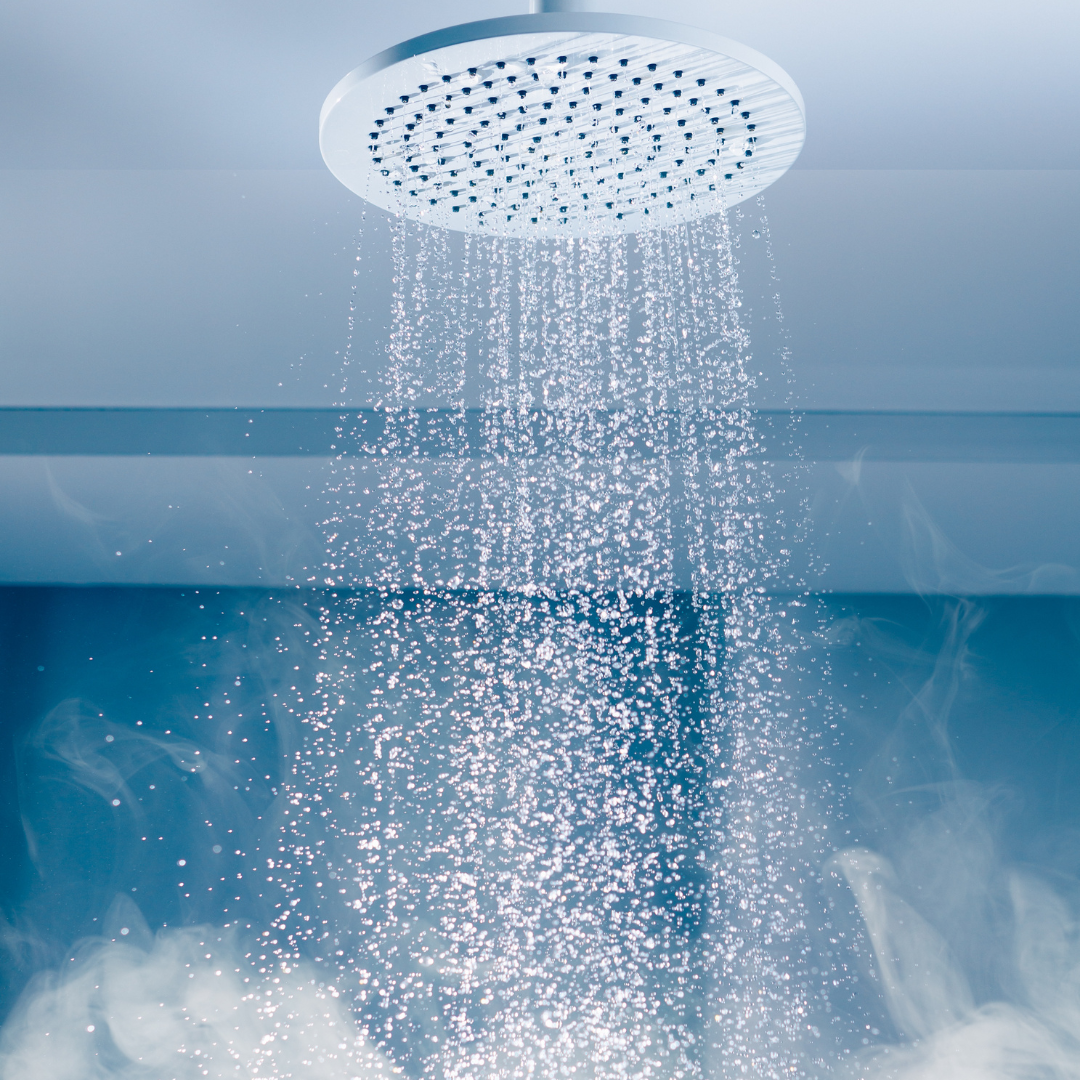 Directions For Use:
Place the shower steamer on the floor of your shower, away from the direct stream of water.
As the steamer starts to dissolve, the essential oils will be released into the steam.
Close the shower door or curtain to help contain the steam.
It's important to keep the steamer away from the direct stream of water to ensure that it dissolves slowly and releases the essential oils over a longer period of time.
FAQ
Why do they seem to be more potent than other steamers?

Most shower steamers on the market today are made in China using artificial fragrance oils and low quality essential oils (despite claims made on the packaging). Pure essential oils, distilled directly from plants, contain a far higher concentration of the beneficial compounds than cannot be replicated in artificial fragrance oils.  Furthermore, the scent is significantly stronger and more potent!
Is there a specific difference in percentage of essential oils / menthol in each tablet compared to other tablets?

In addition to using pure all-natural essential oils harvested from producers who employ sustainable farming practices, we also incorporate a significantly higher dose of the essential oils while balancing the recipe with other beneficial ingredients such as Menthol.  Consumers aren't aware of the many unscrupulous practices that are employed by manufactures around the world.  With respect to Menthol, our recipes incorporate at least 5 times more Menthol in our recipes compared to other brands.  In many ways, Menthol acts as a carrier for the essential oils, amplifying the scent.
Is there anything unique or special about the Eucalyptus essential oils we use?

Purity and harvested from sustainable farms located right here in the USA. Pure and top-grade natural essential oils extracted from the Eucalyptus Globulus tree with no fillers or added artificial fragrance.
Is there anything unique or special about the other ingredients we use?

In this case, less is more.  Our methods are founded on the principle of purity and sustainability while delivering real benefits to our consumers.  A list of ingredients filled with fillers and artificial derivatives is to be avoided.  We favor a-less-is more approach and focus on the quality of each ingredient rather than adding fillers to our tablet to save money in production.
Is there anything unique or special about the Menthol we use?

Purity and top-grade quality Menthol produced right here in the USA in addition to the higher concentration used compared to what other brands use in each tablet.
You mention slow release technology. Can you elaborate without giving away a trade secret?

Unfortunately, this is one aspect to our production process that differentiates us and we are unable to share more details.  However, our  slow release technology was invented to ensure that we maximize the aromatherapeutic elements in our products.  When a tablet is releasing pure essential oils and Menthol into the atmosphere, it is critical that the compounds are suspended in the mist so that it could be breathed in and savored throughout the shower experience.  Without it, there is too much waste as the compounds escape too quickly and dissipate into the air vs suspending in the mist and prolonging the experience for our users.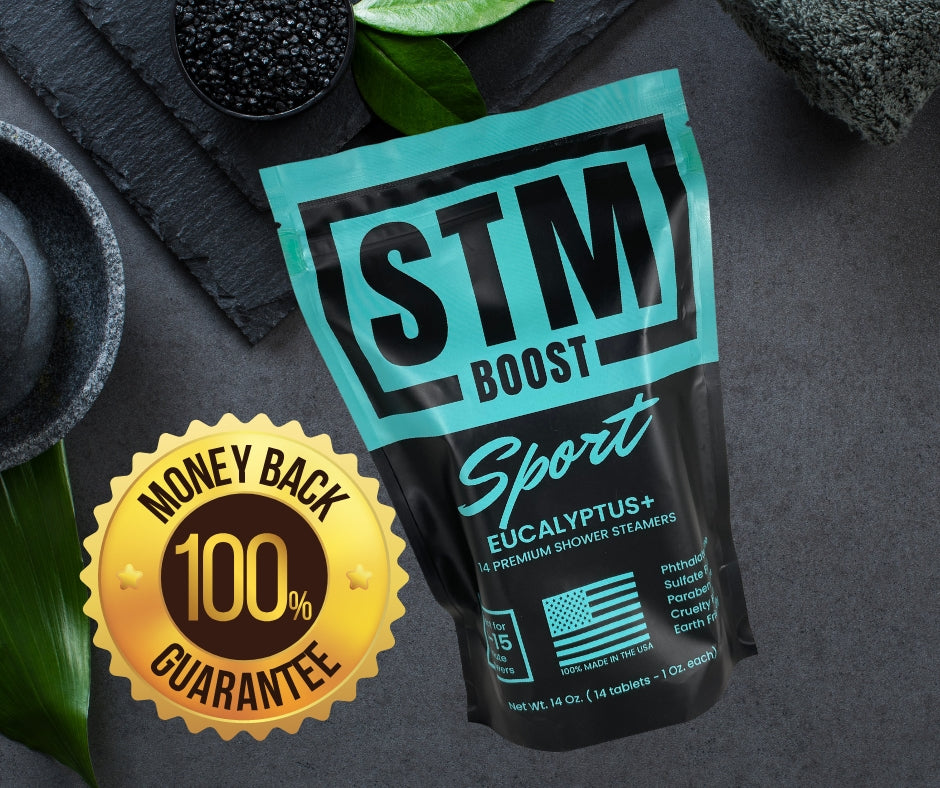 100% Happiness Guarantee
We've spent countless hours developing and refining our products - we know you'll love them. However, we understand this might be your first time buying from us. We want you to feel 100% comfortable in your purchase, so your order is covered in-full by our Happiness Guarantee.
If you aren't happy with any product you buy from us, let us know within 60 days of purchase by contacting us at support@stmboost.com. We'll confirm your order, then provide you instructions to return your product to us, new, used, or anything. Once we receive it, we'll give you a 100% refund. It's that simple!